A look at the 2019 Lexus UX reviews
October 31 2018,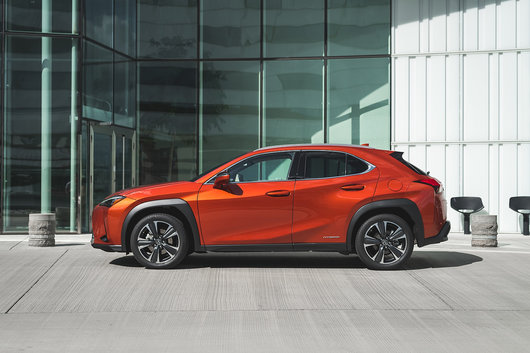 The Lexus UX is Lexus' latest SUV to hit the market and is set to take its place under the NX in the Japanese luxury automaker's lineup. There's no doubt, it will be quite popular with consumers in Canada as it provides the value, fuel economy, and reliability we all love with the added benefit of being luxurious, safe, and elegant.
We already covered the Lexus UX in previous reviews, this time we wanted to take a look at what the media had to say about it.
The starting point is the UX 200. It arrives with an all-new 2.0-litre engine that pushes 168 horsepower and 151 pound-feet of torque through the front wheels and a Direct-Shift continuously variable transmission (CVT). The direct shift part is found in a mechanical first gear; its use allows more torque to be fired through the transmission on take off because there's no risk of slipping the steel drive belt. Once out of first gear, it functions like any other CVT — including having pre-determined shift points when the gas pedal is mashed. The shifts mimic a regular automatic, which dispenses with the annoying 'motorboating' feeling that's the bane of most CVTs – Driving.ca
---
The UX makes a good first impression from the driver's seat. The steering wheel resembles the one found in the LS, a simple but effective trick to make the model look like a more expensive car, and most of the materials feel like they belong in a luxury car. The UX won't blush when compared to other upmarket crossovers like the Volvo XC40 and the BMW 1 Series. We also like that the interior is on the same design pane as the interior. You'll love it or you'll hate it, like we said before, but at least it's congruous – Digital Trends
---
The UX is an easy car to jump in and out of, and the foam seats, claimed to be redesigned to reduce fatigue, are excellent—supportive without being hard and soft without being mushy.

This is the least-expensive Lexus, and while that's reflected in the materials inside, it doesn't feel cheap. In a way, the simplicity helps the UX—Lexus is know for its creative use of textured materials, but the design tends toward overkill. Here, it's clean and and understated, especially a durable but remarkably soft, paper-like texture called washi, after the grained Japanese paper of the same name. The material has a uniquely calming effect – The Drive
To learn more about the 2019 Lexus UX, contact us today at Lexus Laval!