Lexus LS + Concept unveiled as a world premiere in Tokyo
October 31 2017,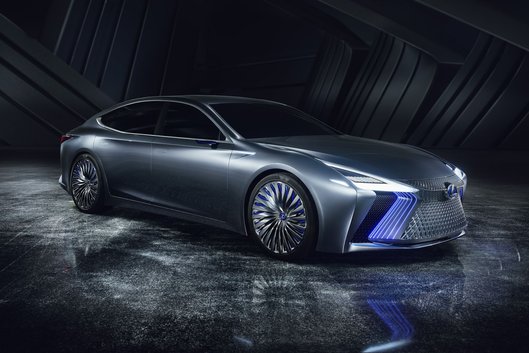 Lexus took advantage of the 45th Tokyo International Auto Show to unveil the LS+ Concept prototype, a vehicle with an autonomous driving system which suggests the future direction of the Japanese brand that intends to sell a vehicle that can drive itself starting in 2020.
Lexus LS + Concept: the next Lexus LS
Lexus recently released the new generation Lexus LS that was unveiled last winter at the Detroit International Auto Show. This, however, does not prevent the Japanese manufacturer from already planning the next generation of its flagship sedan that will go on sale in 2020.
Symbolizing the vision of the Japanese manufacturer, the Lexus LS+ Concept not only introduces us to the latest Lexus technology advances, but it is also able to let us see the next generation of its L-finesse design philosophy.
The trapezoidal grille is of course the main attraction, but the LS+ concept also features electronic exterior mirrors and laser headlamps and taillights that are both outstandingly beautiful and effective.
Automated driving technologies using artificial intelligence
Dubbed Highway Teammate, Lexus' autonomous driving technologies are designed to create a world in which motorists enjoy safer mobility in a vehicle that avoids obstacles and improve peace of mind while driving.
Highway Teammate devices are able to recognize what's going on around them and assess road conditions and the behavior of other drivers. Thanks to these state-of-the-art technologies, the Lexus LS+ Concept is able to get on the highway, change lanes independently, change its trajectory and maintain a safe distance from other vehicles, all automatically.
More interestingly, the Lexus LS + is able to learn. This is made possible by communicating with a data center which allows the addition of new functions to the car. In-car artificial intelligence uses a wealth of data that collects information about the road and the driving environment to ensure state-of-the-art autonomous driving.
In short, the next Lexus LS will be able to evolve with its environment and driver, and in doing so, it will provide a truly unique and certainly one of the most advanced driving experiences in the industry.
As we wait for the new Lexus LS, contact us today at Lexus Laval to discover the new range of new Lexus vehicles!