2019 Lexus RX Hybrid: Efficient Hybrid Technology and Elegant Styling
April 30 2019,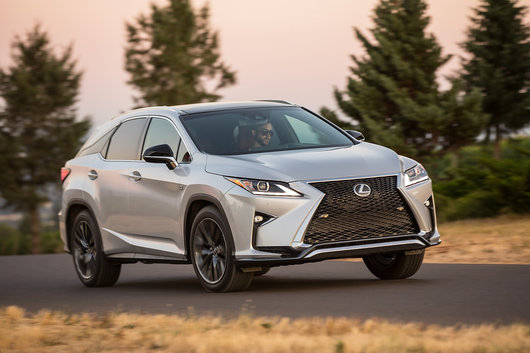 The 2019 Lexus RX Hybrid is a compact crossover SUV that has an efficient hybrid system. This family vehicle also has the signature Lexus Safety System+ technology, which reduces the risks of accidents on the highway. It is offered in 450h and 450h L models.

The 2019 Lexus RX hybrid runs on an Innovative Hybrid System

Engineered for efficiency, the 2019 Lexus RX Hybrid's gasoline engine produces up to 306 net horsepower. The six-cylinder powertrain is synced with the patented Lexus Hybrid Drive technology that improves fuel economy. Two electric motors supplement the 3.5 L engine, which uses the Acoustic Control Induction System for quiet and efficient combustion. Additionally, the Cooled Exhaust Gas Recirculation technology recycles heat energy that's given off by the mechanical components under the hood.

This premium Lexus SUV is equipped with the Active Torque All-Wheel Drive, which is designed to respond to real-time demand for traction. A continuously variable transmission system is paired with this high-performance AWD. You can use an electronic dial to customize the Drive Mode Select, which has several settings. The Sport S/S+ Mode increases the dynamic operation of the drivetrain and gearbox. You could engage the ECO Mode to save fuel or turn on the EV Mode to completely disengage the gas engine.

Passive and Active Safety Highlights in the 2019 Lexus RX Hybrid

Up to 10 air bags are ready to protect passengers in the 2019 Lexus RX Hybrid. Powered by the latest edition of the Lexus Safety System+ suite, the Pre-Collision technology reacts to the slightest risk of a forward crash. The Lane Departure Alert is another highly responsive safety feature that's part of the LSS+ package. Canadian drivers will also gain extra utility from the car's Automatic High Beam function that toggles between the high and low options for the headlights.

A 12.3-inch display is available for the 2019 Lexus RX's infotainment system. This advanced touch screen shows real-time recordings from the Panoramic View Monitor. Whether you back up or make a turn around a tight corner, you'll see overhead views of the surroundings for extra guidance. This hybrid model also boasts the Mark Levinson Audio System with 15 powerful speakers that blast music from SiriusXM Satellite Radio.

The 2019 Lexus RX Hybrid is displayed at the showroom of Lexus Laval. Visit us to test drive this outstanding SUV with loads of capabilities.