2018 Lexus IS: For Passionate Drivers Only
December 31 2017,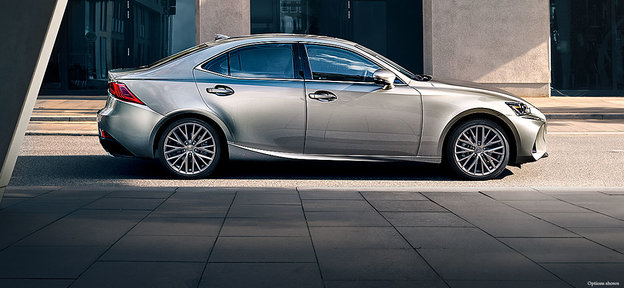 When shopping for a luxury sedan, many buyers automatically think of European brands. But these brands have been using the same recipe for decades, often without exploring or pushing the boundaries of technology and style. The 2018 Lexus IS offers something different, with more aggressive styling, innovative technologies and ultimate comfort, all backed up by the renowned Lexus reliability. Discover the Lexus IS in wonderfully equipped variants: the IS 300 RWD, the IS 300 AWD and the IS 350 AWD.
Great powertrain options for the 2018 Lexus IS in Laval, Quebec
The IS 300 RWD is powered by a 2.0-litre twin-scroll turbocharged 4-cylinder engine that develops 241 HP and 258 lb.-ft. of torque, while the IS 300 AWD and 350 AWD models offer more performance, with a 3.5-litre naturally aspirated V6 that generates 291 HP on IS 300 and 311 HP on the IS 350.
The 2.0-litre in the IS 300 RWD model is paired with an 8-speed automatic transmission, while both IS 300 AWD and 350 AWD get a six-speed automatic. The IS's advanced All Wheel Drive system is at the center of the IS 300 AWD and the IS 350 AWD, and is geared to help drivers take control of the road.
Innovative styling in the 2018 Lexus IS in Laval, Quebec
The 2018 Lexus IS undoubtedly sets itself apart from the pack in terms of styling. It features auto-levelling LED headlamps as standard for maximum road visibility. IS 300 RWD and IS 300 AWD models get 17" alloy wheels, while the IS 350 AWD features sumptuous 18" alloys. Buyers who opt for the F SPORT package, which is available on all 2018 Lexus IS models, will benefit from carefully crafted exterior modifications that include a distinct mesh grille, larger cooling ducts to help reduce brake fade, and exclusive 18" alloy wheels.
Inside, the 2018 Lexus IS is refined, but definitely sporty and designed with the driver in mind. Every variant gets confortable heated leather sport seats. Also standard on all variants are the steering wheel audio controls, steering wheel paddle shifters, Lexus premium audio, Bluetooth capability and Integrated SiriusXM Satellite Radio.
Opt for the top of the line IS 350 AWD and benefit from standard single in-dash DVD, the delightful 15 Speaker Mark Levinson Surround Sound Audio System, a clear 10.3-inch display screen and the very practical navigation system. The F Sport packages also adds racing-inspired elements in the cabin, elements like the 3-spoke F SPORT steering wheel, drilled aluminum pedals, and sport seats that offer even more support.
The 2018 Lexus IS offers a powerful and stylish alternative to European brands in the luxury sedan segment. Come and see it at Lexus Laval today!